FREQUENTLY ASKED QUESTIONS

What does "per crate" mean?
I want to see your linens in person, but cannot visit your showroom before my event. Can I get samples?
My event is on a Saturday, but I'd like to have the items delivered on Friday. Will this add to my rental cost?
What do I need to know before calling Après?
Please be prepared to let us know how you heard about Après so that we can connect you with the appropriate event specialist. We do this for a number of reasons, but most importantly so that you are given the best service. For example, if you are having your wedding reception at a local venue, let us know so that we can ensure that you work with the event specialist who works with that space on a regular basis. After all, it is your wedding, and you want the best of the best, which includes expert advice! Once you are connected with the appropriate event specialist, please be prepared to provide some information about your event. When is it? What do you need from Après? Where is your event being held?
How far in advance should I begin planning and reserving rentals for my event?
Après has no specific requirement, however, once you have chosen a date and know what you need, do not hesitate to call us and make a reservation. During our busy times, we often run out of staff before we run out of equipment. For weddings and large annual events, depending on the time of year – we suggest reserving four months to one year in advance. Smaller events can usually be accommodated with much shorter notice. Remember, everything is always pending availability.
Do you have a minimum order?
For Will Call orders, we do not, however, if you are requesting delivery, please reference our delivery minimums here. If you are having an intimate dinner party for six and need six wine glasses, we are happy to help. However, there are a few specific item minimums to keep in mind:
China and Flatware - sealed and table ready in packages of 5.
Glassware - rented by the crate (9-36/crate)
We are glad to help in any way that Après is needed for your event.
What does "per crate" mean?
Our glassware is rented by the crate. That means if you need 143 wine glasses that are listed as "25 glasses per crate," you would need to order 150 total.
What size linen do I need for my table?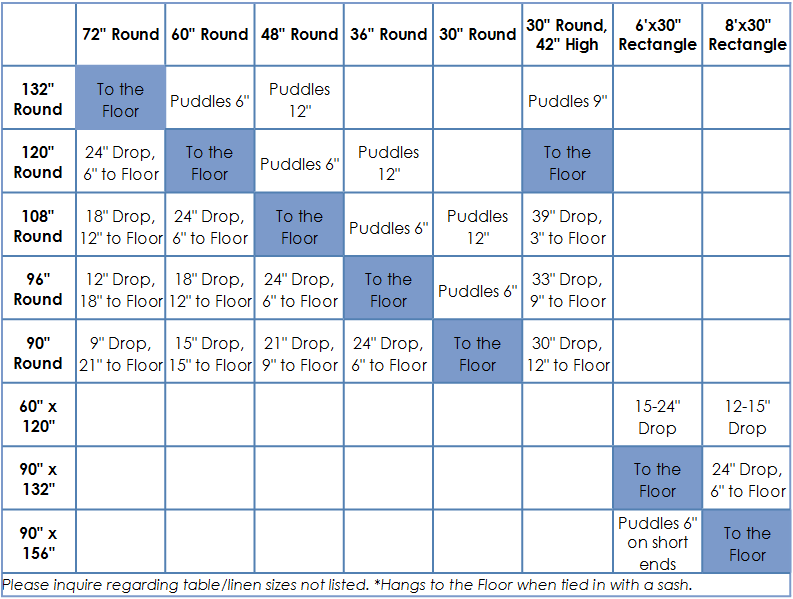 I want to see your linens in person, but cannot visit your showroom before my event. Can I get samples?
Yes. We are more than happy to mail you sample swatches of our linens! Please let your event specialist know which linens you would like swatches of along with your address, and we will mail them to you.
Is delivery and set up / tear down available?
Absolutely. We specialize in delivery and set up, ensuring your items are delivered exactly the way you ordered. Please check with us regarding delivery and set up / tear down fees. These rates are quoted as a round-trip (one-way also available) fee and based on the time, date and location of your delivery address. Our standard rates apply during our normal business hours (Monday – Friday, 8 AM – 5 PM). Deliveries or pick ups scheduled outside of these hours are available at an additional cost. Whether you would like us to just "drop off" the items or set up the tent, tables, chairs and linens – we can accommodate your needs
How do I know what time my order will be delivered?
The majority of our orders are delivered between 9am-5pm. During our peak times (May-October), deliveries may occur after 5pm. If there are any timing parameters that we need to work around, please make sure to go over those with your event specialist when placing your order, and we will do our best to accommodate. For example, if your order is being delivered to a venue that is only staffed and open from 10 am – 1 pm, we will need to know that information to route your delivery accordingly. For all timing requests, a minimum of a two-hour window is required. Although we strive to honor all timing requests, sometimes unforeseen circumstances occur, such as weather, traffic, and other deliveries that may cause delays in your delivery. All of our routes are scheduled one business day prior to the out date on your rental agreement. If you need more specific information about your delivery, please contact our dispatch department at 952.942.3399 the day prior to your scheduled delivery.
Do I need to be present when Après delivers or picks up equipment?
As long as we have a signed contract and have gone over all details prior to installing, you do not need to be present. We do need a phone number where you can be reached on the day of your delivery or pick up. To ensure that we are all on the same page, it helps to go over a diagram with your event specialist that will be passed on to our delivery staff. If you know where you'd like the tent to go, use soup cans as guidelines to mark out the corners. If you have any private utilities (i.e. sprinkler system), you are responsible for marking those areas – and it is suggested that you are present to point out these areas so that our stakes do not damage any of these utilities.
My event is on a Saturday, but I'd like to have the items delivered on Friday. Will this add to my rental cost?
For weekend events, we will gladly deliver on Thursday or Friday and pick up on Monday or Tuesday. The prices we publish include a 1-3 day rental. However, we do make exceptions for events out of the area, as well as for accommodating your—and sometimes our delivery staff's—schedules. Anything rented longer than one week or used for more than one event requires a 1.5x or larger rental fee. Please inquire with your event specialist for specific pricing.
My event is outside of the Twin Cities metro area. Can you ship rental items to me?
We do not ship rental items. We may deliver outside of our standard delivery area, but it will require a higher delivery rate. Please inquire with your event specialist for specific pricing.